THE COLLEGE
Sponsored by SEWA,(Society for Education & Welfare Action) Jagruti Degree & PG College, established in 1993, is affiliated to Osmania University and is recognized by the Govt. of Telangana. The College offers B.Sc and B.Com with different combinations at the Undergraduate level and M.Sc with different combinations at Post Graduate level.
Located in the heart of the city at Narayanaguda/Ramkote and is well connected by all major bus routes in the Twin Cities, access to the college is absolutely hassle free. Metro is also available at Narayanaguda.
Jagruti provides its students with academic, extracurricular and other resources that help achieve the highest scholarly levels and prepare them for positions of leadership and lives of service in many fields of human endeavor.
Students at Jagruti benefit from the extraordinary resources of an institution dedicated to imparting quality education. Faculty members at Jagruti have an unparalleled reputation for balancing excellence in their fields with a dedication to their students, through both classroom instruction and independent study advising.
To support student learning and their personal development, the campus is fully equipped with state-of-the-art facilities. A modern library, well furnished classrooms and training laboratories that simulate industry operations are here to provide the most supportive learning environments for the students.
Jagruti strives to be one of the leading and the most outstanding institutions in the state. As an institution, we seek to achieve the highest levels of distinction in the transmission of knowledge and understanding, and in the education of students.
The knowledge and practical experiences of Jagruti education build an exceptionally strong foundation for students career.
From The Chairman
Dear Visitor,
Jagruti Degree & PG College was established in 1993 by a team of young and ambitious research scholars with a rich teaching experience. The college, sponsored by SEWA [Society for Education and Welfare Action], is affiliated to Osmania University, Hyderabad. Jagruti functions on the basis of well conceived academic policies and principles set up by Senior Professors and Academicians. Excellence in academics has been brought about with a keen eye on standards and never compromising zeal for quality.Now let me give you a glimpse of this academic year. With an impressive number of 200+ Campus Selections in Major IT and ITES companies like GE, HSBC, SATYAM, WIPRO, COGNIZANT, INFOSYS, ADP and KANBAY this year, the institution is emerging as a top-notch college in the twin cities. Another major IT Giant, TCS [Tata Consultancy Services] is going to visit the campus this year.
The college also boasts of contributing the largest number of students for the APSCHE sponsored JKC-CPM [Jawahar Knowledge Centre - Campus Placement Mission] programme aimed at improving the employability of the Graduate students. The 2021 pass - outs were given an intensive training in Soft-skills [Communication skills + Life skills] and Analytical Ability tests of all the M NC companies.
Dr.O.Srinivas Reddy
M.Sc., M.Phil., Ph.D.
The Chairman & Correspondent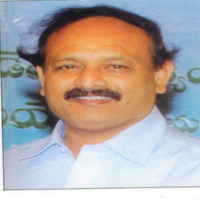 From Principal's Desk
Dear young friend,
My hearty congratulations on your success in the qualifying examinations. It is our privilege to open to you the doors to a successful future; to place within your palm the key to realizing your career aspirations.Youth is a stage in life when you are at the threshold to self discovery and self fulfillment. It is also one of life's most deciding stages. The decision that you make today will have an indelible impact on the rest of your life. Yet you have nothing to fear because we are at hand to equip you with the appropriate counseling and guidance to surmount every hurdle that you encounter.
One must act, and act rightly. This has been the guiding principle with which Jagruti Degree & PG College was established in 1993. Since then, in just over a decade our institution has emerged as the preferred choice of students for Higher Education at the Undergraduate and Post Graduate levels. This is because we emphasise sound fundamentals and thorough training that is practical in content and contemporary in outlook. Jagruti Degree & PG College has consistently upheld its credo of Values with Vision to mould character while awakening the mind. I am certain that you will benefit greatly from your studentship at this institution.
With best wishes to you all
B.Ram Kumar Reddy
M.Sc., M.Phil, Ph.D
Principal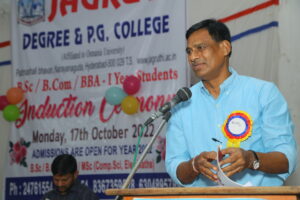 From Vice Principal's Desk
Dear Students, Parents/Guardians,
First of all hearty congratulations to all the students who have successfully completed the intermediate education in the respective college with the guidance of parents/guardian and lecturers/teachers.
It is with a great pleasure that I welcome you to another educational institution imparting the Under graduation & Post graduation studies with academy experience more that 25 years.I promise you the same would be given to you all
Please take a moment to visit our college website & feel free to contact me with any concerns.With best wishes to you all
Dr.C.Pulla Rao
M.A.Ph.D
Vice Principal & Director, Faculty of Commerce & Management Studies

From Director, Faculty of Science & P.G Studies
Dear Students/Parents/Guardians,
I welcome all of you for this  jubilee year celebrating educational institution offering commerce, management & Science undergraduate & post graduation courses.
Albert Einstein said "Education is not about learning of facts but training young minds to think". There is a big difference between cramming up facts and learning them so that they can applied in productive ways. I promise you a realistic and meaningful theory & practical courses in all streamlines of science that would be extended to you for your academic strive and success. As the Director of Science courses I am delighted that the college's values align with my personal values including innovation & involvement. Wishing you all a successful academic year. So please feel free to contact me for all clarifications and assistance.
Dr.B.Satya Narayana Reddy
M.Sc, B.Ed, Ph.D
Director, Faculty of Science & P.G Studies