About Jagruti Degree & P.G College
30+ Years
Sponsored by SEWA,(Society for Education & Welfare Action) Jagruti Degree & PG College, established in 1993, is affiliated to Osmania University and is recognized by the Govt. of Telangana.
3000+ Students
Jagruti provides its students with academic, extracurricular and other resources that help achieve the highest scholarly levels and prepare them for positions of leadership and lives of service in many fields of human endeavor.
Extracurricular Activites
Extracurricular Activities are at the heart of Jagruti, we encourage students to participate in NCC, RedCross and sports activities - inter university competitions (outdoor & indoor) like singing, dancing, painting, carroms & festival celebrations.
Education Driven Faculty
Faculty members at Jagruti have an unparalleled reputation for balancing excellence in their fields with a dedication to their students, through both classroom instruction and independent study advising.
200+ Placements
Training & Placement Cell which has been quite active over the past 30 years the college has impressive number of selections by the major IT and ITES like: INFOSYS, WIPRO, TCS, CAPGEMINI, DELLOITTE, HDFC, ICICI, HSBC etc
Modern Facilities
To support student learning and their personal development, the campus is fully equipped with state-of-the-art facilities with Modern Labs and Modern Classrooms.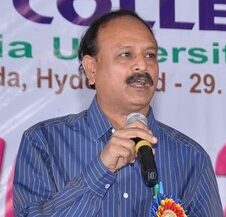 Dr.O.Srinivas Reddy
M.sc., M.Phil, Ph.D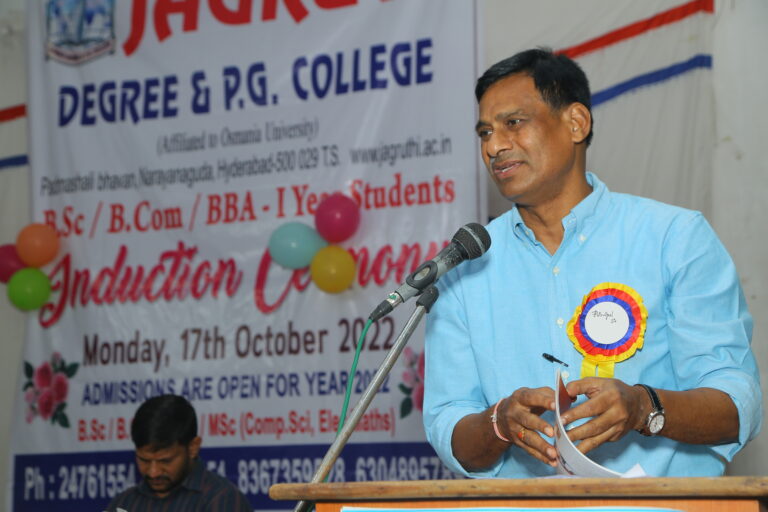 Sri.B.Ram Kumar Reddy
M.Sc,M.Phil(Ph.D)
The Chairman
Dear Student/Parent,
Jagruti Degree & PG College was established in 1993 by a team of young and ambitious research scholars with a rich teaching experience. The college, sponsored by SEWA [Society for Education and Welfare Action], is affiliated to Osmania University, Hyderabad. Jagruti functions on the basis of well conceived academic policies and principles set up by Senior Professors and Academicians. Excellence in academics has been brought about with a keen eye on standards and never compromising zeal for quality.Now let me give you a glimpse of this academic year. With an impressive number of 200+ Campus Selections in Major IT and ITES companies like GE, HSBC, SATYAM, WIPRO, COGNIZANT, INFOSYS, ADP and KANBAY this year, the institution is emerging as a top-notch college in the twin cities. Another major IT Giant, TCS [Tata Consultancy Services] is going to visit the campus this year.
Dr.O.Srinivas Reddy
M.Sc., M.Phil, Ph.D
The Chairman & Correspondent
The Principal
Dear young friend,
My hearty congratulations on your success in the qualifying examinations. It is our privilege to open to you the doors to a successful future; to place within your palm the key to realizing your career aspirations.Youth is a stage in life when you are at the threshold to self discovery and self fulfillment. It is also one of life's most deciding stages. The decision that you make today will have an indelible impact on the rest of your life. Yet you have nothing to fear because we are at hand to equip you with the appropriate counseling and guidance to surmount every hurdle that you encounter.
With best wishes to you all

B.Ram Kumar Reddy
M.Sc., M.Phil(Ph.D)
Principal
Come back soon to get the latest updates