జాగృతి డిగ్రీ & పి.జి కళాశాల
ESTD:1993, Co-Education
DOST CODE:11105
Jagruti Degree & P.G College is one of the best degree colleges in hyderabad
About Jagruti Degree & P.G College
Best Degree Colleges in Hyderabad
30+ Years
Sponsored by SEWA,(Society for Education & Welfare Action) Jagruti Degree & PG College, established in 1993, is affiliated to Osmania University and is recognized by the Govt. of Telangana and as one of the top degree colleges in Hyderabad.
3000+ Students
Jagruti provides its students with academic, extracurricular and other resources that help achieve the highest scholarly levels and prepare them for positions of leadership and lives of service in many fields of human endeavor.
Extracurricular Activites
Extracurricular Activities are at the heart of Jagruti, we encourage students to participate in NCC, RedCross and sports activities - inter university competitions (outdoor & indoor) like singing, dancing, painting, carroms & festival celebrations.
Education Driven Faculty
Faculty members at Jagruti one of the Hyderabad's best degree colleges have an unparalleled reputation for balancing excellence in their fields with a dedication to their students, through both classroom instruction and independent study advising.
200+ Placements
Training & Placement Cell which has been quite active over the past 30 years the college has impressive number of selections by the major IT and ITES like: INFOSYS, WIPRO, TCS, CAPGEMINI, DELLOITTE, HDFC, ICICI, HSBC etc
Modern Facilities
To support student learning and their personal development, the campus is fully equipped with state-of-the-art facilities with Modern Labs and Modern Classrooms that are way ahead of the best degree colleges in hyderabad.
Jagruti Degree and P.G College is the best degree colleges in Hyderabad, offering a range of courses for students of all levels. Established in 1993 and affiliated to Osmania University, this co-educational college provides the highest quality education, with competent faculty and excellent facilities. Join us one of the best degree colleges in Hyderabad.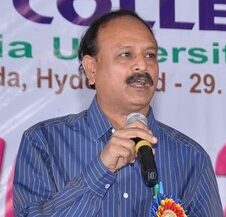 Dr.O.Srinivas Reddy
M.sc., M.Phil, Ph.D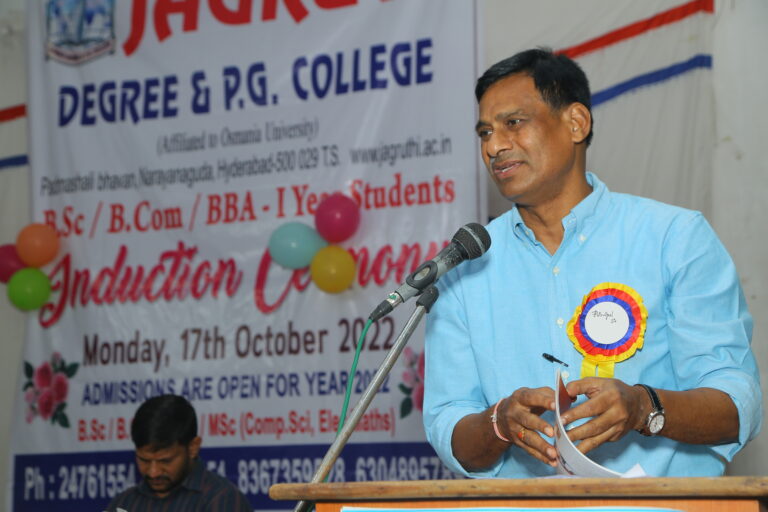 Sri.B.Ram Kumar Reddy
M.Sc,M.Phil(Ph.D)


Dr.B.Satya Narayana Reddy
M.Sc, Ph.D
The Chairman
Dear Student/Parent,
Jagruti Degree & PG College was established in 1993 by a team of young and ambitious research scholars with a rich teaching experience. The college, sponsored by SEWA [Society for Education and Welfare Action], is affiliated to Osmania University, Hyderabad. Jagruti functions on the basis of well conceived academic policies and principles set up by Senior Professors and Academicians. Excellence in academics has been brought about with a keen eye on standards and never compromising zeal for quality.Now let me give you a glimpse of this academic year. With an impressive number of 200+ Campus Selections in Major IT and ITES companies like GE, HSBC, SATYAM, WIPRO, COGNIZANT, INFOSYS, ADP and KANBAY this year, the institution is emerging above the top-notch hyderabad degree colleges in the twin cities. Another major IT Giant, TCS [Tata Consultancy Services] is going to visit the campus this year.
Dr.O.Srinivas Reddy
M.Sc., M.Phil, Ph.D
The Chairman & Correspondent
The Principal
Dear young friend,
My hearty congratulations on your success in the qualifying examinations. It is our privilege to open to you the doors to a successful future at one of top degree colleges in hyderabad, to place within your palm the key to realizing your career aspirations.Youth is a stage in life when you are at the threshold to self discovery and self fulfillment. It is also one of life's most deciding stages. The decision that you make today will have an indelible impact on the rest of your life. Yet you have nothing to fear because we are at hand to equip you with the appropriate counseling and guidance to surmount every hurdle that you encounter.
With best wishes to you all

B.Ram Kumar Reddy
M.Sc., M.Phil(Ph.D)
Principal
Vice Principal
Dear Students, Parents/Guardians,
First of all hearty congratulations to all the students who have successfully completed the intermediate education in the respective college with the guidance of parents/guardian and lecturers/teachers.
It is with a great pleasure that I welcome you to hyderabad's best educational institution imparting the Under graduation(Degree) & Post graduation(PG) studies with academy experience more that 25 years.I promise you the same would be given to you all
Please take a moment to visit our college website & feel free to contact me with any concerns.With best wishes to you all
Dr.C.Pulla Rao
M.A.Ph.D
Vice Principal & Director, Faculty of Commerce & Management Studies
Director, Faculty of Science & P.G Studies
Dear Students/Parents/Guardians,
I welcome all of you for this  jubilee year celebrating as the hyderabad's best degree college/educational institution offering commerce, management & Science undergraduate & post graduation courses.
Albert Einstein said "Education is not about learning of facts but training young minds to think". There is a big difference between cramming up facts and learning them so that they can applied in productive ways. I promise you a realistic and meaningful theory & practical courses in all streamlines of science that would be extended to you for your academic strive and success. As the Director of Science courses in one of the hyderabad's top degree colleges, I am delighted that the college's values align with my personal values including innovation & involvement. Wishing you all a successful academic year. So please feel free to contact me for all clarifications and assistance.
Dr.B.Satya Narayana Reddy
M.Sc, B.Ed, Ph.D
Director, Faculty of Science & P.G Studies
RED LISTED students(Click here) are hereby informed that your ADMISSION is UNDER SUSPENSION, due to non submission of Biometric. submit your Aadhar Authentication . Visit nearest mee- seva , e- seva centers .Contact immediately 6304895789 Jagruti Degree & P.G College
All the B.Sc/B.Com/BBA I,IV & VI Sem students are hereby informed to complete the bio-metric process(Aadhar Authentication) Immediately in nearest e-seva/Mee-seva centres. Otherwise you have to pay the complete college fee dues.
All the B.Sc/B.Com/BBA I,IV & VI Sem students are  Informed to apply post-metric scholarship ( Those who have not applied) and submit hardcopy with the relevant documents (Fresh/Renewal) on or before 31.03.23.
Non-Scholarship students should pay total college fee.

Are you looking to pursue higher education in Hyderabad? Look no further than Jagruti Degree & P.G College one of the top degree colleges in hyderabad We offer world-class facilities and resources, as well as innovative courses designed to help you unlock your potential and pave the way for a successful future. Join us today to start your academic journey at our college
Why are we in the top degree colleges in hyderabad?
Jagruti Degree & P.G College offers a plethora of educational programs at convenient timings that are designed to help students succeed academically and professionally. Our state-of-the-art classrooms and laboratories equipped with the latest technologies provide students with a real-world learning experience. With its international collaborations, the college ensures exposure of its students to global industry practices and trends. The faculty, staff, and administration at Jagruti Degree & P.G College are dedicated to creating an equitable environment and helping our students grow in their career paths while making valuable contributions as members of the global community.
One of the hyderabad's best BBA colleges?
At Jagruti Degree & P.G College as one of the best hyderabad degree colleges, we believe in providing every student with a holistic learning experience. We provide our BBA students with exposure to real-world challenges and opportunities that can hone their skills and make them aware of the business world around them. With our established network of experts, faculty and alumni, you are sure to get a jumpstart into your career right after you graduate!
With experienced faculty and a focus on practical training, it makes it one of the Top BBA colleges in Hyderabad.
What's makes us the best B.Sc colleges in hyderabad?
The College as one of the top degrees college in hyderabad offers a range of innovative B.Sc degree programs that have been designed keeping in mind the changing trends in the professional industry. With these course modules, you can expect to gain both theoretical and practical knowledge that will help you stand out in your career path. We take pride in providing every student with access to resources such as state-of-the-art classrooms, online simulations, latest industry insights and events with our tie-ups with corporate companies, giving them the best of experiences during their college days!
We have the Best degree courses in hyderabad!
Jagruti provides the best degree courses in Hyderabad that are tailored to meet the demands of modern day employers. Our courses feature a combination of lecture-based classes, lab activities, and interactive tutorials, balancing theoretical and practical learning for students. Additionally, we have corporate associations with some of the leading companies that offer students access to field visits, projects, and trainings ensuring our graduates are work ready when they graduate. We also host several events throughout the year providing students with an opportunity to network and exchange knowledge in their respective fields.
Why are we the best bcom colleges in hyderabad?
The College, among the best hyderabad degree colleges offering the best B.Com courses for students who are looking to pursue a degree in commerce. Our B.Com program is designed to cover all aspects of commerce, including accounting, business law, finance, and economics. We have dedicated faculty members with years of industry experience and strong research background who will provide you with up-to-date market knowledge in your chosen field. Our state-of-the-art facilities will help you hone your skills and take them to the next level. Join us today and become part of Hyderabad's leading education institution!
The best PG colleges in hyderabad!
Jagruti Degree & P.G College is the top Degree & PG college in hyderabad that is committed to providing the best postgraduate education for students in Hyderabad. We offer a range of courses designed to help you hone your skills and stay ahead in the competitive job market today. From our M.Sc degree in Computer Science, Electronics and Mathematics, to our MBA program with specializations like Finance, Marketing or Supply Chain Management, we aim to provide you with comprehensive learning that covers all aspects related to business.  Join us today and unlock your true potential!
Want to get a higher degree in Hyderabad?, but you're unsure which college to choose from, then this guide is for you. We'll go over the best degree colleges in Hyderabad so you can make an informed decision Heed on your educational journey.

Research the Colleges Programs and Accreditations
When you're researching the best degree colleges in Hyderabad, the most important thing to consider is the programs and accreditations offered by each college. Take notice of each college's course structure, academic curriculum, faculty, student-to-teacher ratio, extracurricular activities and support services. You should also research the number and type of accreditations a college has received. This will ensure that your degree is recognised in industry after you complete your studies.
Location of the College
Location can be an important factor when searching for the best degree colleges in Hyderabad near me. Consider the location and how easy it is to reach, whether by public transportation or car. If a college is too far away, you may want to consider another option that's closer. Additionally, when looking for degree colleges near me look at what landmarks or nearby student services are within walking distance. Knowing these things will help you determine if a particular degree colleges near you would suit your need.
Learn About Faculty Members and Student Services
It's important to research faculty members and student services when selecting the best degree college in Hyderabad. Learn more about the faculty qualifications, their teaching styles and available expertise. Many colleges also offer a variety of student services such as academic advising, recreational and counseling services, so find out what is available at each college you are considering. All of this information can help you make an informed decision and select the best hyderabad's degree college for your needs
Placement opportunities
When researching degree colleges in Hyderabad, it's important that you consider the placement opportunities offered by each college. Many institutions boast impressive track records of successful placement for their graduates and can be a great asset for those looking for employment after graduation. Research the types of industries, companies and organizations the college has partnered with, as well as the placement success rate to ensure you find the top degree college in hyderabad with the best post-graduation career prospects
College activities
Apart from the placement opportunities, you should also consider the activities and amenities offered by the college. Many of Hyderabad's top colleges offer a range of extracurricular activities such as sports and debating, as well as comfortable and modern facilities such as libraries, computer labs, student lounges and more. When researching degree colleges in Hyderabad for your needs, make sure you get a good overview of their culture to make an informed decision.