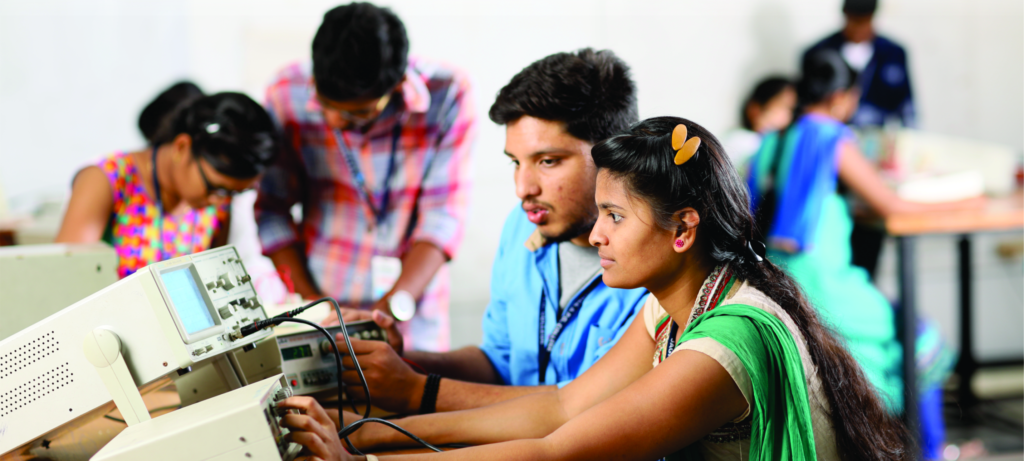 Scholarships & Confessions
LIBRARY

The college library plays a central role in helping Jagruti College achieve its mission of providing students a quality education. Beyond its immediate responsibility to provide the information services and resources that support the courses of study offered at the college, the library has the broader mission of fostering in our students the importance and necessity of lifelong learning.
To support this mission, the library and its staff are committed to the following objectives:

Organize and maintain a collection of the highest quality information resources, whether print or electronic.
Promote information literacy and the efficient use of information resources by providing group and individual library instruction that stresses critical and evaluative skills.
Maintain a physical environment that encourages study
Provide access to and facilitate the retrieval of information resources

Jagruti has spacious Library-cum-Reading rooms one each located in the Administrative building and the P.G building. Each student is permitted to borrow two text books and reference books in all the different subjects of instruction.
The college also subscribes for international and national journals, periodicals and newspapers for the students and faculty members at the college library.
It is our goal at the Libraries to provide excellent service to students and faculty that will advance each user s learning, teaching, and research experience and we strive to support library users.
LABORATORIES

Overview
We at

Jagruti

believe that to be successful in the workplace students must have practical experience, because no amount of books and theories can truly prepare them for the kinds of challenges and surprises they will face on the job or in the laboratory.
The college is committed to giving its students the practical experience they need to succeed. Each department ensures that its students graduate with the valuable teamwork skills and realistic understanding of concepts necessary to make an immediate and significant impact in the workplace. The laboratories at

Jagruti

are equipped with state-of-the-art equipment.

Computer Laboratories


JAGRUTl's nine Computer Laboratories each in a spacious carpet area of 1000 sft., house altogether 400 computers powered by Intel Pentium IV with DVD cover, Microprocessors together with the associated power connections, individual seating arrangements, printers and with UPS backup.

Necessary latest software programmes have been installed in all the computers to enable the students carryout practice the theory they learn in the classrooms.

Physics Laboratories




Jagruti

has four Physics Laboratories housed separately - the Mechanics, the Optics (with dark room) and the Electrical & Electronics laboratories.

Each Laboratory is equipped with the requisite apparatus and advanced measuring instruments to conduct experiments. Five sets of apparatus and measuring instruments have been allotted for each experiment. Relevant explanatory visual aids such as charts and transparencies are also provided.

Electronics Laboratories




Jagruti

has set up four spacious Electronics Laboratories, each one adequately equipped with dual trace 20 MHz general purpose Cathode Ray Oscilloscopes [CRO Phillips 1050-01. Function Generators and Regulated Power Supplies. Fifteen 8085/8086 Microprocessor kits together with accessories like OAC, AOC converters, stepper motors and signal generators for interfacing experiments are available. 

Five sets of circuit layout boards with plug-in patch cord connectability have been made available to the students for each experiment.

Hardware Laboratory: 

This includes 7 Dual Channel 20 Mhz. Cathode Ray Oscilloscopes, Precision Regulated Power Supplies, Function Generators, 8085/8086 Microprocessor Kits to enable the construction and testing of both Analog and Digital Circuits. A Microwave bench is available for High Frequency distributed analysis of antennas, wave guides etc.

Software Laboratory


Mathematical Software packages like MatLabrVer 6.51. MultisimrVer 7.0] enable the design, synthesis and simulation of ANALOG & Digital Circuits and systems in the LF, RF and HF domains. Control Systems Analysis isalso facilitated by these packages.
INTERNET

World Wide Web provides the gateway for innumerable and useful resources for the students and faculty members. Through internet, they can access reference material and other links that help them gain course related knowledge.
Keeping this in view, the college has provided internet facility in all the computer labs. The labs are monitored by trained people who guide the students whenever required. The labs are open for all the students and faculty members. They can use the facility either at the time of laboratory hours or when there is no class work.
SCHOLARSHIPS AND CONCESSIONS
Candidates belonging to SC/ST/BC/EBC can apply for Govt. Scholarships according to rules prescribed from time to time. Such candidates have to apply in the prescribed application form which will be duly forwarded by the Principal to the authorities concerned, for necessary action or any other rules of regulations which are in force by the concerned authorities.

Student Bus/Railway pass facility and Railway concession for tours during vacations are made available.

Additional computer classes are conducted before and after college hours to enable the students gain knowledge beyond the University curriculum, in addition to their regular coursework.